One of several highly successful international companies, Apple has released its iPhone 1.1.1 software update via iTunes. According to the company, "If you have modified your iPhone's Software, applying this software update may result in your iPhone becoming permanantly inoperable."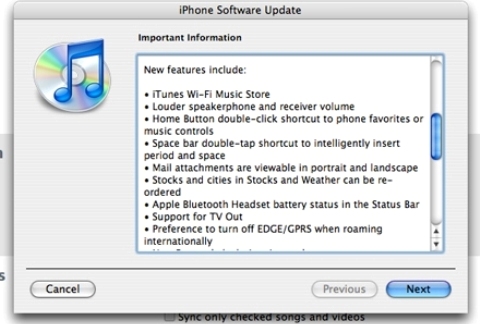 Key Features of An Updated iPhone Firmware 1.1.1:
• iTunes Wi-Fi Music Store
• Louder speakerphone and receiver volume
• Home Button double-click shortcut to phone favorites of music controls
• Space bar double-tap shortcut to intelligently insert period and space
• Mail attachments are viewable in portrait and landscape
• Stocks and cities in Stocks and Weather can be re-ordered
• Apple Bluetooth Headset battery status in the Status Bar
• Support for TV Out
• Preference to turn off EDGE/GPRS when roaming internationally
• New Passcode lock time intervals
• Adjustable alert volume
Check Apple's official web site for more details of latest iPhone software update! If you accidentally upgraded and 'bricked' your iPhone, downgrade the firmware.
New iPhone firmware software version 1.1.3 available for download.