Apple has launched its newest Safari 4 for both Mac and Windows PCs, which the corporation claims as the world's fastest and most innovative web browser, featuring new Nitro JavaScript engine that able to execute JavaScript up to 4.5 times faster than Safari 3, nearly 8 times faster than Internet Explorer 8 and 4 times faster than Firefox 3. In addition to superior JavaScript performance, Safari 4 can load HTML web pages 3 times faster than IE 8 and Firefox 3, aiming to provide users an ultimate web browsing experience.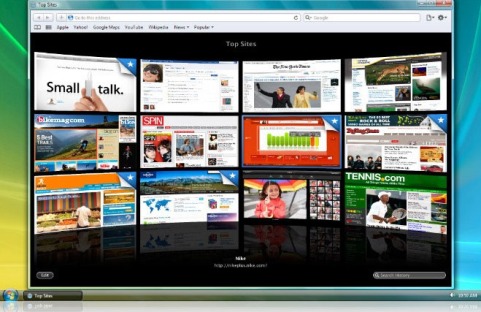 "The successful beta release helped us fine tune Safari 4 into an even better, faster version that customers are going to love," said Philip Schiller, Apple's senior vice president of Worldwide Product Marketing. "Safari is enjoyed by 70 million users worldwide and with its blazing fast speed, innovative features and support for modern web standards, it's the best browser on any platform."
According to Apple, Safari 4 features Top Sites for a stunning, incredible visual preview of frequently visited and favorite websites (up to 24 thumbnails on a single page); Full History Search to search through titles, web addresses and the complete text of recently viewed sites; Cover Flow to offer a highly visual way of reviewing site history and bookmarks; Smart Address Fields for automatically completing web addresses from an easy to read list of most likely match called as Top Hit; Smart Search Fields to fine tune searches with recommendations from Google Suggest or a list of most recent searches; and Full Page Zoom for a closer look at web content without degrading the quality of the site's layout and text.
The new Safari 4 web browser that incorporates HTML 5 support for offline technologies and support for advanced CSS Effects is now available as a free download for both Mac OS X and Windows through Apple's official site.
Update: Apple Safari 5