Previously we mentioned about the Apple's 3G iPhone reception issue that could potentially due to Infineon receiver module. Nevertheless, those anxious iPhone's users are still hoping that the next firmware release will able to fix it without any actual hardware repair or units recall. However, with the recent firmware version 2.0.2 release from Apple, obviously it is clear that it won't help in fixing the issue. What makes it worst is this fix is claimed to have deceive iPhones' users by showing full bar on signal strength while not really improve the 3G connectivity or reception in actual fact.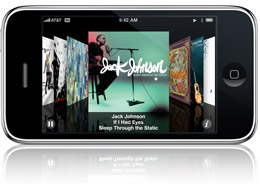 Typically, a release note that is tagged along with the firmware update will spell out what the firmware update intends to fix. But this round it just mentioned "bug fixes" which is very ambiguous and again put the hopeless users into disappointment. Anyway, the firmware update is said to be able to improve the scrolling and typing speed to a more acceptable level as compared to previous version. But again, this is out of some consumers expectation and they will have to bear with software incompatibility of some new applications and eventually abandon the usage.
The next major firmware update of version 2.1 that is scheduled to be released on October is expected to be able to fix the reception issue. No doubt, this is the only neat option that they can hope without having hassle of sending the whole units for rework or replacement.