Searching for secure external hard drive to protect your private and confidential data? The Aegis Bio is a hardware encrypted biometric external hard drive from Apricorn which can allow users to protect their secret files and datas with state-of-the-art, 128-bit AES encryption and fingerprint recognition. In other words, the secured data can only be accessed with a swipe of a finger (up to 1o fingerprint) that already get registered.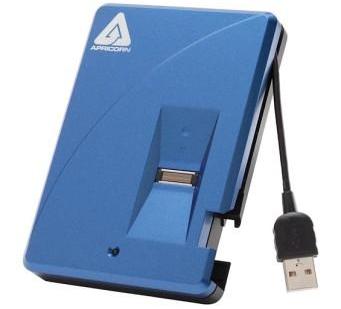 "Not a week goes by without headlines of sensitive data being stolen or lost in public, compromising both companies and individuals," said Mike McCandless, Apricorns VP of Sales and Marketing. "By incorporating the UPEK TouchStrip biometric features and Oxford Semiconductor encryption engine into our popular Aegis hard drives, we've developed a very dependable, affordable, easy-to-use portable data security solution that can endure the bumps and bruises that accompany life on the road."
With 16-point omni-directional shock mounting system, the Aegis Bio can protects itself from accidental drops and bumps. In addition, this fantastic USB 2.0 portable hard drive requires no software installation on the host PC. Perfect for people who demand the highest level of protection for their data!
The Aegis Bio that features a 5,400rpm spindle speed and an 8MB cache is available in 80GB, 120GB, and 160GB capacities for $199, $219, and $289, respectively.
2010 update: New upgraded Apricorn's Aegis Bio pricing details:
250GB Aegis Bio – $119
320GB Aegis Bio – $129
500GB Aegis Bio – $149
640GB Aegis Bio – $159