Once in a while, you may have to reinstall the OS (Operating System) or upgrade your home PC. All these could be tedious sometimes when the users are not familiar with the upgrade process. Now Apricorn seems to have easier solution to complete these tasks in few simple steps. The users will be able to clone the old hard disk drive to the new one through the multiple hard drive SATA/PATA (Serial/Parallel ATA) interfaces connecting to the PC USB 2.0 port. Known as DriveWire, it is fully backup by Apricorn's EZ Gig II or ShirtPocket's Superduper! for Windows or MAC OS respectively.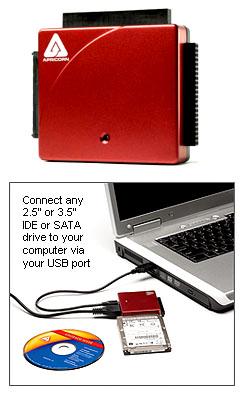 In terms of hardware, DriveWire comes with various hard drives' interfaces such as SATA and PATA interfaces that let users connect to the suitable hard drives for cloning process. This hybrid adapter is compatible with 44-pin PATA/IDE for 2.5-inch notebook drive, 40-pin PATA/IDE for 3.5-inch desktop drive as well as any SATA based hard drives. Once connected, users will be able to transfer important data, application software and even OS to the new hard drive to be used later.
This could be the perfect solution especially for the IT folks that deal a lot with hard drives cloning for corporate machines. At an affordable price of $19.99, it is also a must have PC accessories for your home PC.