The leading provider of personal storage solution, Apricorn has launched its new super-fast Aegis Padlock Pro encrypted portable drive – available in regular hard drive version and Solid State version, which combine real-time 256-bit AES encryption and secure PIN access with both ultra-fast eSATA and USB interface, allowing setup of administrator access and up to 10 unique PIN passkeys, thanks to the Padlock's Administrator feature, aiming to ensure your private and confidential data safe.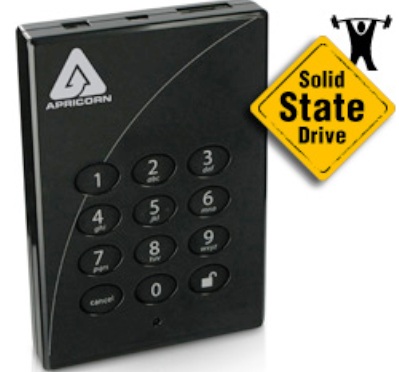 According to Apricorn, the Aegis Padlock Pro hard drive offers eSATA clocking speeds of up to 90 MB/s, while the Aegis Padlock Pro SSD supports eSATA data transfer rates of over 219 MB/s.
"Not only do employees in healthcare, finance and government need to protect sensitive data in order to meet compliance regulations like HIPAA, SOX and PCI, but so do the telecommuters and business traveler in all industries," commented Mike McCandless, VP Sales and Marketing for Apricorn. "The Aegis Padlock Pro gives users the ability to safely transport data and add more secure capacity to their systems while harnessing the speeds that eSATA provides."
Check price lists of Apricorn's Aegis Padlock Pro (regular hard drive and SSD version) external drive below.
250 GB Aegis Padlock Pro – $129
500 GB Aegis Padlock Pro – $169
640 GB Aegis Padlock Pro – $199
128 GB Aegis Padlock Pro SSD – $419
256 GB Aegis Padlock Pro SSD – $799