Previously we mentioned about Pro-View that is able to frame and shoot wirelessly up to 500 feet using your Digital SLR, here comes another similar solution from Aputure for those that are tight of budget but can stay with shorter coverage range. Named as Aputure Gigtube, it is an innovative solution that can ease up the shooting difficulty whenever the view is being blocked by obstacle or difficult angle that cannot be reached in certain circumstance.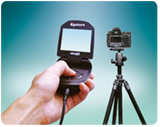 Aputure Gigtube is being designed to stream any live view mode captured by Digital SLRs but instead of streaming the content wirelessly, it is connected to a tiny 2.5-inch 16M colors definition LCD screen via a 2-meter long extension cable for the media streaming to take place. To ease up the control and viewing capability, the screen is fully rotatable and users can utilize it for self-portrait, multiple angle and position shooting as well as off camera remote shutter release for object shooting that is hard to be accessible.
Measured at around 83 x 66 x 45mm and weighted merely 110 gram, the tiny module is priced at $190 and is definitely a good fit for newbie as well as professional photographers. Good thing is, the device is widely compatible with models selection available in entry level as well as mainstream series for Canon, Nikon and Olympus Digital SLRs in the market.