We have been seeing many netbook solutions based on Intel Atom processor such as Asus Eee 1005HR, Asus Eee EB1012 but in case you are looking for alternative solution from AMD, the recently spotted Eee PC from Asus could be your right choice. Named as 1201T, it is the first Eee series based on Athlon Neo CPU running at 1.6GHz.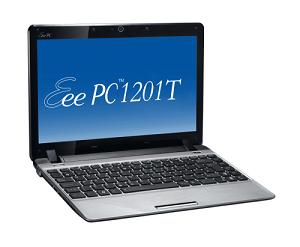 Having almost similar specifications as 1201HA series, the machine is backed up by a 2GB memory RAM, 320GB hard disk drive and what is most notable here is its ATI Radeon HD3200 graphics solution that can scale and decode 1080p media clips easily, exceeding what can be achieved by Intel relatively older chipset solution based on SCH US15W or 945GSE. Further equipped with a 12.1-inch LCD display at 1366 x 768 resolution, it is one of the most largest screen netbook targeted for those users that get used to notebook or PC usage with greater visual and multimedia experience in both office and home environments. Some other hardware specifications include normal USB 2.0 host ports, Ethernet port, Bluetooth 2.1 as well as wireless LAN technology for internet browsing.
No pricing and availability yet, Eee PC 1201T will be preloaded with Windows 7 Operating System and may pose certain threat to existing Intel Atom solution that still monopolizing the netbook market.