Asus and Skype have announced to release their collaborated product which is called as videophone AiGuru SV1. The Asus AiGuru SV1 is a cool videophone which has a 7 inch LCD with 800 X 480 resolutions, built in 640 X 480 webcam that allow users to make free call to other users of the skype VoIP phone service without relying on the desktop.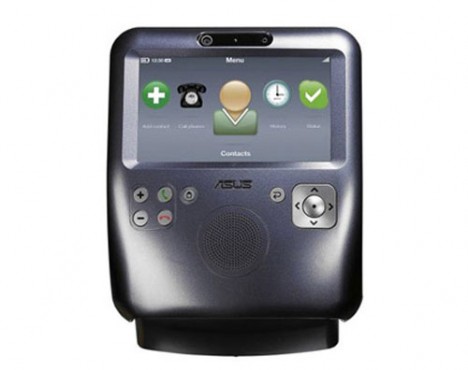 To get it online, the users need a skype account and connect to the internet through built-in Wi-Fi or an Ethernet port. Additionally, AiGuru SV1 also support SkypeIn and SkypeOut for voice calls to the real-world numbers and set up call forwarding from the phone. It also gives user access to Skype voicemail and join multi-user video conferences.
Asus AiGuru SV1 also features with built-in microphones; speaker and 3.5mm audio jack for connect to a headset. The battery is only last for 20 minutes of talk time and only 30 minutes of standby. Currently, the users can order the ASUS AiGuru SV1 at Skype's online store for the North American and European with the price of nearly $300 and estimate to start shipping by October.