ASUS, the leading company in the new digital era recently has announced new release of 3,200 sets of limited-edition Triton 79 AMAzing CPU coolers for celebrating the millstone of High-CPU coolers. The name AMAzing represents the high level achievement of cialis online pharmacy this flagship cooler in terms of high performance, stylish outlook and gorgeous packaging.
It also well potected by Polyurethane foam and have an ultra-exclusive identification card marked with a limited-edition serial number. To control the processor temperatures for achieve highest performance and stability, Triton 79 AMAzing incorporates a nickel-plating copper base, 4 cooper heat pipes and aluminum fins. Additionally, it also incorporates PWM function 12cm that automatically adjust fan speeds according to CPU temperature and delivers quiet cooling at mere 18dBA.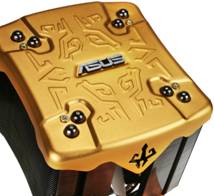 The voltage regulation shield inside the cooler direct airflow created by 12cm LCD fan to surrounding VRM (voltage regulation modules) that reduces VRM temperatures by 10-15°C for smooth operations and overall system reliability.
The Triton 79 AMAzing is able to support Intel® Core™ 2 Extreme / Core™ 2 Quad Quad-Core CPUs (LGA775) and AMD Athlon™ 64 FX/X2 Dual-Core processors (939/940/AM2/AM2+/1207+). With this much support for so many different processors, the Triton 79 AMAzing is ideal for gamers who wish to overclock their systems and retain the choice to use multiple computing platforms.