The world's leading IC providers, Realtek Semiconductor has collaborated with ASUS to develop wireless monitors based on Realtek's Wireless USB technology, aiming to reduce clutter and permit more flexible and streamlined office layouts.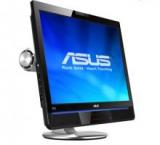 "Wireless operation opens up an entirely new experience to our customers, with unsurpassed convenience and ease-of-use," said Vincent Chiou, Director of ASUS Display BU. "Our search for high performance and quality led us to choose Realtek's state-of-the art Wireless USB solutions as a key component in raising the easy usability of ASUS monitors to a new level."
"ASUS brings highly innovative technology with real consumer benefits to market," said Ran Yan, senior vice-president, Realtek. "We are extremely pleased to collaborate with ASUS at the forefront of the ongoing drive to bring ever more convenience to every aspect of computer use."
The innovative ASUS wireless monitor which designed to set a new paradigm for monitor convenience and ease of use will be able to pair with either Wireless USB HWA (Host Wire Adapter) or WHCI (Wireless Host Controller Interface) solutions that's plugged into your PC.