Good news for consumers who waiting so long to buy a cool, innovative ASUS EeeKeyboard PC that first introduced at CES 2009. ASUS has officially launched its long-awaited ASUS EeeKeyboard PC, the portable keyboard which conceals a smart, fully-functional PC inside, working with virtually all HDTV, monitor or projector to transform itself into a full-fledged personal computer.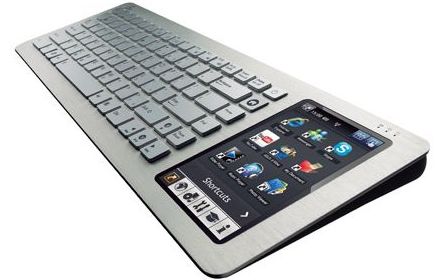 In addition, ASUS EeeKeyboard PC features Ultra-wideband (UWB) Wireless Display connectivity that allows for streaming 720p HD videos to a wide range of display devices within a 5 meter range, thanks to the built in transmitter and external receiver.
Key Features and Specs of ASUS EeeKeyboard PC:
Ultra-wideband technology allows EeeKeyboard PC to stream 720p HD videos up to 5-meter range
Integrated 5-inch multi-touch panel to improve user experience
Intel Atom N270 processor and 1GB DDR2 RAM
Durable and shock-proof 16GB SSD (solid state drive)
Bluetooth v2.1, 10/100/100 LAN and Wi-Fi 802.11b/g/n connectivity
Based on Microsoft Windows XP Home operating system
Furthermore, the EeeKeyboard PC also comes equipped with a 5-inch (800 x 480 pixels) multi-touch display that enables users to easily access programs, send instant messages and manage its media player by controlling the on-screen cursor, aiming to deliver an intuitive, interactive user experience.
The new compact, lightweight ASUS EeeKeyboard PC which measures 16.7 x 5.7 x 1 inches and weights in at 2.4 lb is now available for purchase at Amazon.com with a price tag of $599.