The Taiwanese electronic maker, Asus has introduced the upcoming release of its Express TV USB Stick Hybrid. Express TV USB Stick Hybrid is a cool device that allows desktop users to receive digital DVB-T and analog TV broadcast.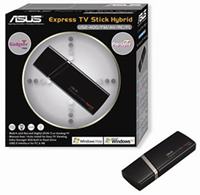 The device has been designed with user friendly environment, it can be connected to any available USB 2.0 port and all the necessary software for viewing and recoding TV broadcast will be automatically installed. The software also includes Windows Vista Gadget tool that allows watching and recording TV via the operating system's Gadget sidebar without interrupting usual tasks.
The USB stick has built-in 4GB of memory capacity for providing space for TV recording, Express TV USB Stick Hybrid software and etc. The Express TV USB Stick Hybrid is supports various Windows platforms such as Microsoft Vista Home Premium, Vista Home Basic, Vista Ultimate and Windows XP.
The ASUS Express TV USB Stick Hybrid pack will be included a remote control, DVB-T antenna AV breakout cable and support CD. The availability date and the price is not yet announced.