Asus has just unveiled a new type of digital photo frame targeted for middle and high end consumer market. Although there are so many digital photo frames being developed and released but Asus seems to be able to distinguish from the rest by integrating a Display Link USB interconnect capability into the digital photo frame. What is more unique here is the 7" digital photo frame can be used as secondary display panel in case you are looking one for your traditional PC.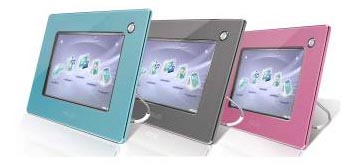 Named as UFOTO UF735, it is designed in sleek outlook with enhanced features. Besides basic function to display digital photos and stream audio files, it supports Foto-in-motion technology that user can choose to display with different effects up to five different modes. Also, it is equipped with auto-rotation sensor that can turn the viewing in both vertical or horizontal mode automatically. What makes it more useful here is the capability to act as a secondary display panel for home or office use. Users can either set the second display to clone, mirror or extended mode as similar to conventional LCD panel in the market. Interestingly, the mini 7-inch 800X480 resolution LCD display panel can be connected through USB interface, freeing up the display port of the PC system for other usage.
The digital photo frame is available in star silver, blush pink or sky blue frame colors depending on users' preference. No pricing and availability has been disclosed yet, but this is another good technology convergence example that combines both digital photo frame and USB LCD display capability into one.