ASUS, the leading motherboard manufacturer, recently announced the release of FSB1600 CPU supported motherboards. Through the extensive R&D, ASUS has managed to unlock and enhance chipset with the capabilities, such as P35 chipset, which is officially stated to only support up to FSB1333, to support up to FSB1600 now. Best of all, the FSB1600 support can be added to existing motherboard through latest BIOS update, beside optimize performance and functionality.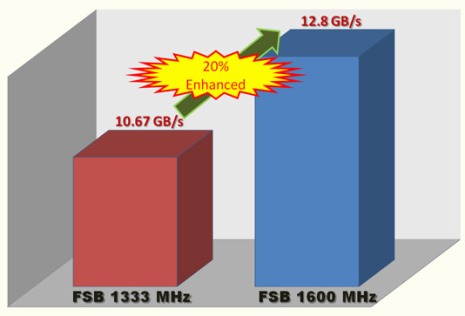 Compared with FSB1333, FSB1600 can significantly increase 20% of bandwidth between the CPU and Northbridge and enhanced the speeds of up to 12.8GB/s.
FSB (Front Side Bus) 1600 MT/s is supported by Intel Core 2 Extreme (codenamed Yorkfield XE) processors, which built on 45 nm technology.
The ASUS motherboards that currently supports FSB1600 include Maximus Extreme, Maximus Formula, Blitz Extreme, Blitz Formula (from Gaming Series), P5E3 Deluxe/WiFi-AP@n, P5E3 Deluxe, P5E3, P5E (from P5E Series), P5K3 DELUXE/WIFI-AP, P5K Premium/WiFi-AP, P5K DELUXE/WIFI-AP, P5K-E/WiFi-AP, P5K-E, P5K PRO, P5KR, P5K, P5KC, P5K SE and P5K-V (from P5K Series).