In today's consumer world, wireless technologies is trending in replacing wired access that can greatly enhance user experience. And as an effort to promote the same advantages, Atheros and Wilocity has announced the collaboration development effort to enable wireless networking based on existing PCI-e standard. Running at 60GHz band, it will able to support existing 2.5GHz and 5GHz Wi-Fi networks to provide an extremely high bandwidth transfer rate suitable for any PCI-E compliant interfaces.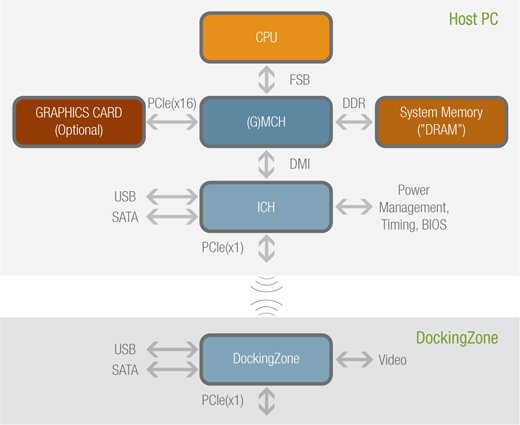 The new wPCIe specification is capable to scale up to 5Gbps (or equivalent to 625MBps) and eventually to 7Gbps (625Mbps) as estimated. With assumption that 8b/10b encoding method was deployed based on PCI Express standard, users can expect a theoretical value of 500Mbps, which is twice of what can be achieved by first generation PCI Express x 1 lane. Even though it may not able to cater for bandwidth required by high end graphics card, but this is no doubt a great milestone towards technology convergence in PC and consumer electronics market spaces. With the new wPCIe standard, it allows notebook to connect to external displays, storage devices and even external graphics processor wirelessly. Basically it can be designed with both local and remote components, whereby the remote components can be a docking zone with all the necessary PCIe compatible devices such as USB 3.0, FireWire, eSATA or discrete graphics processors. And best thing is, the switch appears just like co-located legacy switches, which is transparent to Operating Systems that simplifies the whole implementation.
No pricing information yet, the new wPCIe standard module will start sampling by next year only with initial availability to mainstream notebooks.