Looking for a smart solution to access email, Internet and business applications from your laptop while away from home or work? The premier communications holding company, AT&T Inc. has announced the launch of a new 3G Laptop Connect device from Sierra Wireless – AT&T USBConnect Lightning, which delivers improved mobile broadband performance on the nation's fastest 3G network, aiming to offer users a quick and easy Internet access while on the go, compatible with AT&T's High Speed Packet Access (HSPA) 7.2 technology.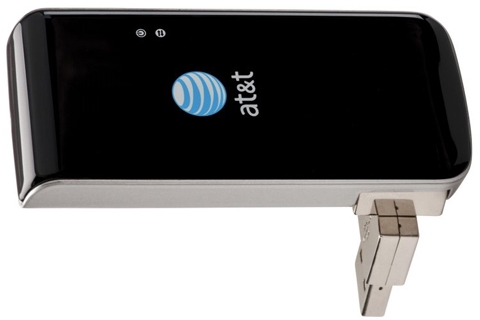 "The Lightning is a high-performing device compatible with our latest HSPA technology," said Michael Woodward, vice president for Mobile Phone Portfolio at AT&T Mobility and Consumer Markets. "As we continue our 3G network evolution, we are building a solid portfolio of HSPA 7.2 devices to meet the future needs of our customers."
According to the release, AT&T plans to deploy HSPA 7.2 in Charlotte, Chicago, Dallas, Houston, Los Angeles and Miami by the end of 2009.
"The USBConnect Lightning offers an innovative, eye-catching lighted design with a swivel hinge for flexible use in horizontally or vertically oriented USB ports, and we are pleased to offer it exclusively to AT&T customers as the company deploys HSPA 7.2 coverage," said Dan Schieler, senior vice president for Worldwide Sales at Sierra Wireless. "People continue to expand their use of mobile broadband in their everyday routines wherever they are, and the evolution of the AT&T 3G network and devices like the USBConnect Lightning provide them with the flexibility and freedom to do so."
AT&T USBConnect Lightning USB modem that comes pre-loaded with AT&T Communication Manager (ACM) 7.0 software is scheduled to be available starting November 22 for free, after a $100 mail-in rebate with a 2-year service contract (DataConnect Plan of at least $35 per month).