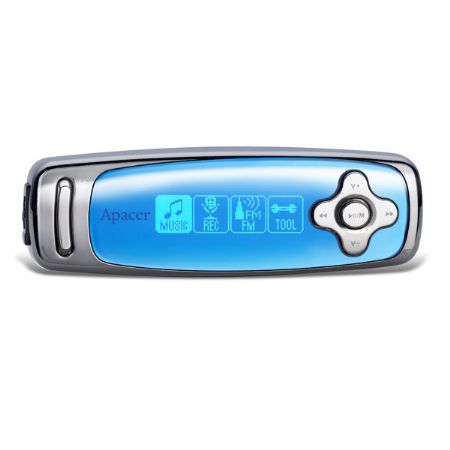 You desire an MP3 player that doesn't cramp your style? But all the ones in the market look so boring and old fashioned? Check out the new Audio Steno AU581 courtesy of Apacer Technology Inc, the latest in MP3 innovation. Blending fashion and music, this cool model spots a sleek and luxurious look. Its sexy chromium body and dual-colour coating make you look cool while allowing you the pleasure of listening to hundreds of songs. The chic metallic body and blue crystal finish emits an aura of stylish elegance.

Good looks aside, the AU581 also has an organic light emitting diode display that is brighter and clearer than the standard LCM or liquid crystal display. This feature enhances night time vision and power efficiency besides giving it a cool and smart look. The MP3 is also equipped with a high-performance FM radio enabling you to store up to 20 of your favourite channels, 12 language support systems, a high power built-in rechargeable Lithium-Polymer battery, and a sensitive microphone for recording. Recording is easy with just a press of the Direct Record button. You can tune in and record your favourite channel at the same time. The built-in flash memory capacity is for 2GB and 4GB.
There are more perks in store for the AU581 user. Apacer Technology has tailored high-sensitivity earphones equipped with large Φ15mm Neodymium Magnet Mylar units at a super low impedance of 16Ω to reproduce wide stereo sound with high-definition treble and powerful bass. It is also easy to switch from pop to rock, classical, jazz, bass, treble or normal with the 7-mode EQ hot key. Your ears will be serenaded by perfect sound quality for your favourite music.