The provider of innovative audio products, Audioengine has launched its new W2 (AW2) Premium Wireless Adapter for iPod, which allows ipod owners to send music wirelessly from their beloved iPods to any music system without any compromise in audio quality, using uncompressed CD-quality transmission technology with no network setup, software, or computer required.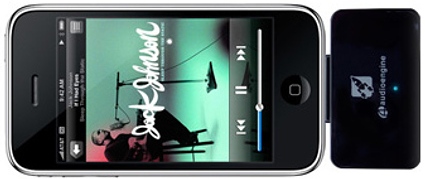 According to Audioengine, the AW2 ultimate wireless adapter is super-easy to hook up, working by plug the digital sender into iPod and connecting the included Reciever to any stereo system.
"It's exciting to have another wireless product to compliment our already successful AW1 wireless adapter," said Brady Bargenquast, Audioengine co-founder. "The Audioengine W2 gives you the convenience of using your iPod as a remote control and is the perfect way to get great quality music wirelessly to your stereo."
Highlights of Audioengine W2 (AW2) Premium Wireless Adapter for iPod:
Use your iPod for total wireless music control
Quick setup, receiver included
Super-compact size, no batteries needed
No separate remote or base station needed
Uncompressed CD-quality digital transmission
No dropouts, static or interference
Hand-built cabinets with high-gloss finish
Wi-Fi technology beats Bluetooth and FM
No DRM restrictions, plays all your music
HOP feature works with up to 8 receivers
"The best thing about the W2 is that not only do you no longer need a dock, but your wireless music will actually sound better than most wired docks," said Dave Evans, Audioengine co-founder.
General specifications of Audioengine W2:
Range (typical): 30ft (9 meters)
THD+N (A+weighted): < 0.03%
Wi-Fi Frequency Band: 2.4-2.4835 GHz
Latency: < 20mSec
Dimensions (each): 100 x 30 x 10 mm
Audio frequency response: 20Hz to 22KHz (+/- 1.5 dB)
Output Voltage: 830 mV
Channel Separation: 65 dB
The new Audioengine W2 Premium Wireless Adapter for iPod is now available through authorized Audioengine reseller and its official site for $169.