Many users especially the non-tech savvy group couldn't care less about the computer system they are using. They will be satisfied as long as the computer they are using can perform the basic functions required. In fact getting to know your computer system is actually quite important. Knowing your system well allows you to control your machine better and upgrade or enhance according to requirement. For Windows users, they can easily go to Microsoft System Information to extract info about basic hardware specifications, system configuration, computer components and applications installed. However, Microsoft System Information is quite limited when you ask for more information such as data collection, system performance record, license compliance, etc. If you need a little bit more, perhaps you need to find other solutions or look for other system information analysis and monitoring tools to help.

If you are a home user, system inventory tools such as System information for Windows (SIW) could help. It is a free standalone application which does not require installation. However, for commercial use especially for IT personnel who need more advanced features and advanced reporting formats, Auslogics System Information is probably something worth looking into. Of course it is not free – $19.95 for a license. However, this utility does more than just tell you all about your system information. The system analysis' reporting formats are quite impressive and info rich. The reports are supplemented with many visual charts and diagrams for better understanding. Besides, it breaks the reports up into categories and allows you to browse for general information, OS information, memory usage, and other performance statistics individually and reports on each one of them.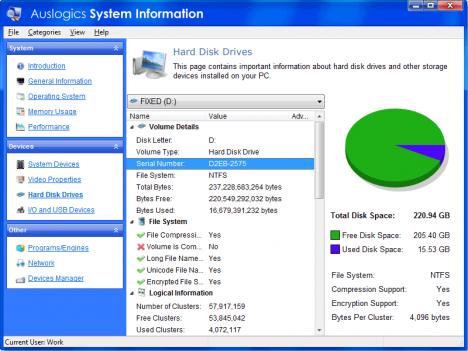 For IT personnel who need to do a lot of system monitoring and reporting to the management, this toolkit could be very helpful. Users who want to enjoy the 15 days' trial can download it for trying.