avast! software has just released the general availability of the new Avast! Antivirus 5.1 after resolving a few issues discovered from the beta versions testing. According to Whole Product Dynamic Test conducted by AV-Comparatives, avast! has scored impressive score of 96.4% in protection rate.

The update to the latest version of 5.1 (build string 5.1.864) is available for all 3 flavors of avast! consumer products which include avast! Free Antivirus, avast! Pro Antivirus and avast! Internet Security, where the avast! Free Antivirus is the freeware version of avast! Antivirus software.
Below is the overview of the new features available in version 5.1 and note that all features from 5.0 are inherited as well:
Improved 64-bit support which include 64-bit boot-time scanner and 64-bit Outlook Antispam Toolbar for Outlook 2010
Improved cleaning of malware infections
Improvements in Behavior Shield and better handling of false positives.
Improvements in antirootkit engine and cleaning module.
Enhanced stability and performance improvements in Web Shield and Network Shield to provide real-time protections especially the defense against drive-bys attack from web browsing.
Sandboxing feature – users can run high risks application such as web browser in a restricted virtual environment which prevents the host system from exploitation.
While waiting for the official posting of Avast! 5.1 Antivirus, here's the direct links to get the full installers for Windows users: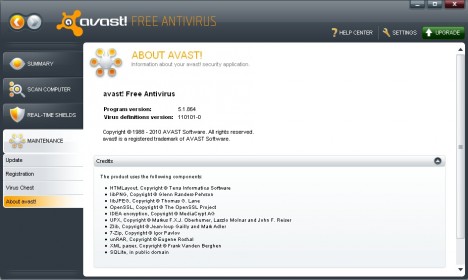 Update: avast! Free Antivirus 6.0