Wonder what could be the smallest form factor of Intel Atom based solution available today? Although it could be as tiny as a name card size, but some may require an additional carrier board to extend some of its functionality to be usable by system integrators or end users. Just recently, Axiomtek has just announced a new embedded SBC (Single board Computer) system based on Intel famous Atom processor in Pico-ITX form factor. Measured at only 5.2 X 3.8 X 1.5 inches, it could be one of the smallest standalone system for embedded space.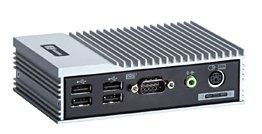 Named as eBOX510-820-FL, the system will be designed with Intel Atom Z510 processor clocking at 1.1GHz. As expected, it will be paired with a relatively larger Intel SCH US15W chipset for some peripherals extension and graphics decode capabilities. Besides, it can support up to 1GB of DDR2 through a SODIMM slot. Others include the CompactFlash slot that can extend the storage memory, display ports such as VGA or converted CRT as well as LVDS for dual independent display, gigabit Ethernet as well as commonly available USB 2.0 host ports.
No pricing information yet, the eBOX510-820-FL is already avaialble now and is claimed to be RoHS compliance. Since it is X86 based architecture, the platform is expected to be preloaded with either with Windows XP Embedded, Linux, Windows CE Operating Systems suitable for various applications such as medical, in-flight entertainment or automotive industries.