It is common to backup files and data and there are various software utilities such as JaBack and CopyChangedFiles that can help you to backup your data so that you can restore them easily when needed. However, when talking about backup web browser settings, it is probably not as common as backup files or data. Backup web browser setting is also important so that you don't lose some important settings such as bookmarks, extensions, history, plugin data, preferences, thumbnails, visited links and etc when you have formatted hard disk or even change to new computer. Now with the solution provided by FavBackup, it can help you backup and restore web browser settings faster and easier.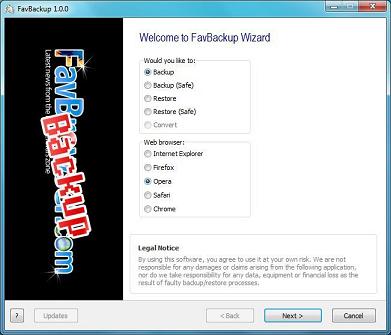 FavBackup is freeware and standalone application. To use it, you don't need to perform any installation and just run the executable file directly. Currently it supports 5 types of web browsers, which are Internet Explorer 6-8, Firefox 2-3.5, Opera 9, Safari 3-4 and Google Chrome 1-3. To start backing up/restoring web browser settings, you need to choose backup/restore option, then followed by selecting the web browser type. It offers various types of data backup and you just choose whichever items you would like them to be backup/restored, then select a folder where you want the data/setting to be kept or restored from. Once the data has completed backing up/restoring, it will displays a green check mark beside each of the items to inform you this item has been backup/restored successfully.
FavBackup 1.1.2 is compatible to run on Windows 2000/XP/Vista/7 and is absolutely free to download. Consumed around 3.3 MB of your hard disk space, it is quite useful and users can just download it at here.