One of the first things that get other people to pay attention and notice you is always your face. Hence, smart skin care to keep your skin, especially your face healthy, fresh, young and attractive, is a top priority for many people especially those who are very particular about their appearance. To keep the face healthy, gorgeous and glowing, the Japanese toy manufacturer, BANDAI, has collaborated with cosmetics expert, FANCL, to roll out a tiny device, namely Skin Expert that can check your skin condition instantly and conveniently.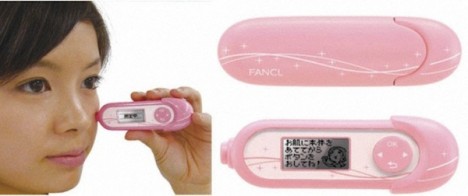 Measuring 924 × 33 × 23mm in dimension and weighing 40g in weight, the tiny Bandai Skin Expert looks quite similar to a USB memory stick and it can be easily carried anywhere. Users can stick the skin sensor on their skin and get an immediate reading to indicate the skin condition via the small 24 × 14mm LCD display. Users can measure the skin moisture content and the skin condition. The indicator will tell users the amount of skin moisture and show the skin assessment value (from 1,000 to 10,000,000). The data taken can be stored, analyzed and plotted into charts for easy understanding. There are 5 different measurement modes for users to take their skin reading.
Bandai Skin Expert digital measuring tool is priced at ¥3,750 (about $40) and it is only available in Japan starting November. For a mere $40, it is a good investment for men and women who love their skin and place appearance or beauty as a top priority.