Belkin is collaborating with Kodak to launch a new Bluetooth USB dongle that able to upload full resolution photos captured from mobile phone or digital camera directly without the user intervention. Backup by Kodak Picture Upload Technology, the network solution leader has able to find a new way that enable photos transfer wireless to PC for storing, printing or sharing to friends.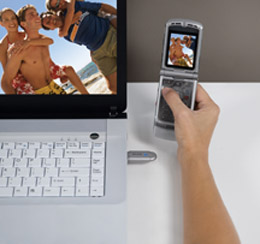 The device is compliance to any USB 2.0 port in PC running at Windows XP or Vista Operating system. In order make it more common, it is supported by famous Bluetooth technology especially among mobile phones or PDA (Personal Digital Assistance). Obviously, the demand for this product is so huge by considering the Bluetooth enabled camera phone users growth rate in the market. Furthermore, it is supported by famous online photos sharing websites such as Facebook, MySpace.com and Kodak gallery.
The service is already available in Kodak.com store in US and we should be able to find more similar stores in other countries in short future. Selling at only $49.99, this is definitely a good bargain for those that doesn't bother to spend time uploading photos in front of PC screen.