Belkin, the leading network devices provider has just unveiled a new TuneCast Auto Live FM Transmitter targeted for Apple's famous iPhone and iPod Touch owners. Named as TuneCast Auto Live and designed to be used with ClearScan Live software, it allows users to display and control FM transmission utilizing GPS capabilities from Apple's products so that the best and clearest FM radio reception can be obtained while on the move.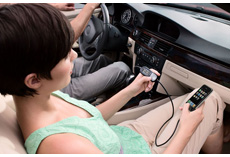 The TuneCast Auto Live is compatible with iPhone 3.0 OS as well as iPod Classic and Nano and with its ability to control through a single iPhone interface, it simplify the complexity and minimize the number of devices interaction in your vehicle, that eventually bring the best audio experience to all. Besides ability to automatically tune to the best radio stations with ClearScan's recommendation or TuneCast Auto users' inputs, users can optionally adjust the frequencies and set them as favorite channels with two programmable preset button on the tiny device.
The device will be available by fall this year in North America, Europe, Asia and Australia. At a retail price of $79.99, it is quite affordable in view of its ability to pair and control FM transmission and music directly from Apple's famous iPhone or IPod while on the road.