Belkin, a leader in consumer network devices has recently unveiled a new 11n wireless router, known as N1 Vision that featured an interactive real time network status display panel. Its sleek and stylish design has made it so unique from other competitors' product to be part of your network devices that terminates the external DSL back bone technologies and convert it to high bandwidth 802.11n wireless transmission for seamless connectivity in your home.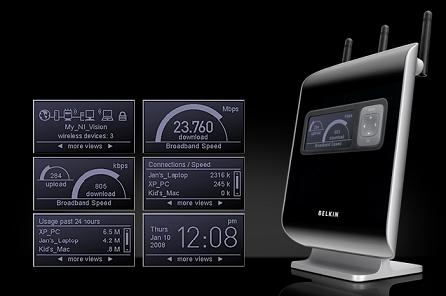 This innovative idea has enabled user to interact with all the network components in Local Area Network (LAN) more effectively through the router LCD panel. It evolves from traditional router (with LED indicators) that only provides very limited information such as power status and link activities. And with the built in network status display panel on N1 Vision, user will be able to monitor the real time download/upload Speed, broadband bandwidth usage, number of surrounding network devices, guest network access key and etc.
It is compliant to 802.11n draft version 2.0 specifications which supports Multiple In Multiple Out (MIMO) feature with three antennas extended vertically on top of the glossy black casing. MIMO is a smart antenna technology that allows higher data bandwidth and longer coverage range by utilizing spatial multiplexing and spectral efficiency. 802.11n protocol is said to be able to achieve 300 Mbps Physical Rate Transmission which is much faster than previous 802.11 a/b/g wireless maximum bandwidth of 54 Mbps. However, this is not guaranteed by Belkin or any manufacturers as the actual performance varies due to software optimization and local environment.
For consumers that are seeking for high performance 11n router with stylish design, this could be a right choice. The product, priced at USD199 will be available to consumer market by end of this month.