With the current trend of more and more users switching from Windows to Macintosh OS, Belkin sees the need of coming out with a new cable that would ease up the migration process. Good news to all existing Windows users that would like to switch to Mac OS (Operating System) system now! Instead of the need to go though all the hassle to drag and drop specific files during the transfer, now you can just get this new Switch-to-Mac cable to do the files and settings transfer seamlessly through USB interfaces.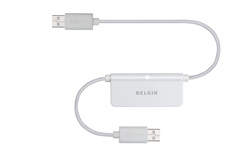 This cable is kind of similar to previous version that was released to make the migration from XP to Vista easier and now is being targeted for new Mac flavored users. Basically users just need to connect this USB cable to both existing Windows system and new Mac OS system and Migration Assistance software will to do the transfer completed with summary report. Besides some internet and preference settings, it also transfers other files such as movies, music, personal data and etc.
The cable is currently available at $49.99 in US first and will be planned to release to Canada, Europe and Asia countries in February 2009. As expected, it will be compatible with Windows XP and Vista and Mac OS X v10.4 Tiger and v10.5 Leopard version.