The well-known Taiwanese company specializing in the manufacturing of computing, communications and consumer electronics devices, BenQ has introduced their new V2400W, which the company calls as the world's slimmest 24-inch widescreen LCD monitor, measuring only 2.44 inches at its thickest point, aiming to target the sophisticated and stylish consumers.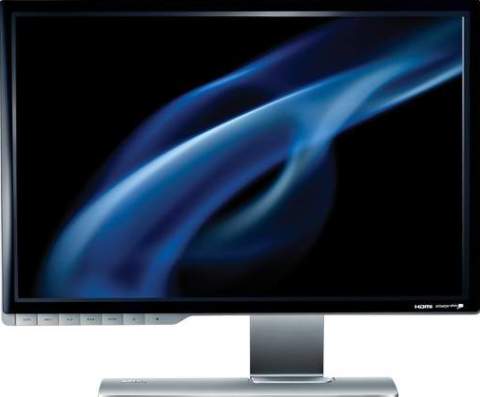 In addition, the BenQ V2400W which is the world's first glimpse into BenQ's newly evolved Kinergy Design will feature a 4000:1 dynamic contrast ratio, new RHCM (Rapid Heat Cycle Molding) injection process and full 1080p HD support (1920 x 1200 resolution).
"The V2400W is inspired by the B2 stealth bomber, evoking a sense of mystery, awe and the elite," said Manfred Wang, Director of the BenQ Lifestyle Design Center. "In addition, the display's asymmetry exemplifies our new design philosophy. One is captivated by its suspended energy, expecting the screen to tilt. But it stands still, as if time were frozen and the movement paused."
"Positioned as a premium luxury-lifestyle product, the V2400W performs accordingly. HDMI with HDCP, DVI-D and VGA inputs offer future-proof high-definition connectivity as well as compatibility. BenQ's proprietary Senseye+photo Human Vision Technology provides vividly realistic, true-to-life colors. Five preset modes – Dynamic, Photo, Standard, Movie and sRGB – simplify optimized viewing at the touch of a button. The V2400W is also NSTL-compliant for superior color precision consistent from monitor to printer to digital camera to any visual device. The V2400W's exceptional 4000:1 Dynamic Contrast Ratio additionally intensifies black to new levels, revealing even the subtlest dark details in extraordinary clarity and precision. And for displaying video in crisp, clean detail free of blur and ghosting, the V2400W incorporates BenQ's Advanced Motion Accelerator Technology (AMA) for super-fast 2ms GTG response time," according to the company.
The new BenQ V2400W monitor which weighs 6.7kg will hit the market by April 2008 but no words on its price yet.