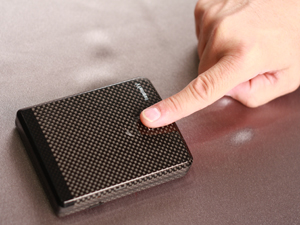 There are so many advanced security features for laptops but not for wallet or purses. Wallets actually store some of users' most valuable and personal belongings. Losing the wallet may cause great inconvenience as credit cards need to be cancelled and identity cards reported missing. Aegis Innovations has come up with a wallet designed with biometrics features to keep users' money and credit cards safe.

TungstenW has a hard casing which will only open when it identifies the owner's fingerprint. Users initially need to connect the wallet to their computer and program it with their fingerprint. Swiping on the wallet will give the owner access to its contents. The wallet can also be linked to the user's cellphone via Bluetooth . This will trigger the alarm if the wallet is separated from the owner for a distance of more than 10 feet. Stealing the wallet will put the thief in hot water before he even thinks of breaking open the casing.
Designed in a variety of colours, users can choose from the fiberglass version or carbon fiber and Kevlar version. The TungstenW measures 3 3/8″ wide x 4 1/4″ long x 3/4″ thick. the prices range from $399-$599.