BitMICRO recently unveiled a new 2.5 inch SSD (solid state drive) which offers up to 416GB memory capacity to fill up the gap of memory technology constraint. The model known as E-Disk Altima features the IDE interface is the highest capacity SSD memory module available in commercial market today. SSD is on the way to replace conventional hard disk due to its durability, smaller size and less power consumption.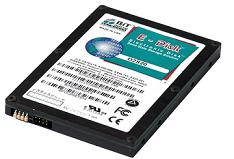 The E-Disk Altima SSD is rugged enough with the 2.5-inch casing which supports the extended temperature ranging from -40 to 85 Degree Celsius. It is compliant to the specifications of 133MB/sec burst transfer with average of 100MB/sec Reads and Writes. Some of the transfer modes supported are the standard PIO 0-4, UDMA 0-6 and DMA 0-2. With the solid features, it is targeted not only for commercial market, but also for military and industrial market due to high demand of spacious capacity and reliability memory module for high end applications.
The module will be released to public in March 2008. However, no pricing has been announced yet but don't expect it to be cheap for the initial launch since the competition has just begun especially for high capacity SSD memory modules' manufacturers.