RIM has officially announced its new high-performance, enterprise ready tablet, dubbed as BlackBerry PlayBook, which combines a groundbreaking symmetrical dual-core (1GHz) processing, true multitasking, high-fidelity web browsing, BlackBerry Integration and industry-leading multimedia features into a single compact device, running on new BlackBerry Tablet OS (QNX Neutrino microkernel architecture) to enhance your mobile computing experience.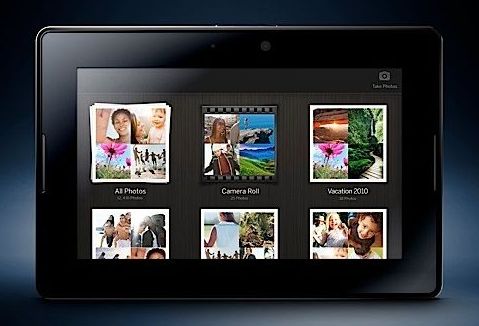 Features of BlackBerry PlayBook include:
7-inch (1024 x 600 pixels) WSVGA multi-touch screen with gesture support
Blazing-fast 1 GHz dual-core processor complemented with 1GB RAM
Dual full HD (1080p) cameras – 3-megapixel front facing plus 5-megapixel rear facing
New BlackBerry Tablet OS with true symmetric multiprocessing support, based on user-friendly QNX technology
Support Adobe Flash Player 10.1, Adobe Mobile AIR, HTML-5, Adobe Reader, POSIX, OpenGL and Java
BlackBerry integration of the tablets and smartphones utilizing a secure Bluetooth connection
Bluetooth 2.1 + EDR and Wi-Fi 802.11 a/b/g/n connectivity
microUSB, microHDMI and DLNA media streaming
To accompany the announcement for all-new BlackBerry PlayBook, Amazon has announced that they will launch their renowned free Kindle app for new BlackBerry PlayBook tablet, enabling the PlayBook users to enjoy a wide range of Kindle ebooks.
"RIM set out to engineer the best professional-grade tablet in the industry with cutting-edge hardware features and one of the world's most robust and flexible operating systems," commented Mike Lazaridis, President and Co-CEO for Research In Motion. "The BlackBerry PlayBook solidly hits the mark with industry leading power, true multitasking, uncompromised web browsing and high performance multimedia."
The new ultra-portable, ultra-slim and lightweight BlackBerry PlayBook which measures 5.1 x 7.6 x 0.4 inches and weighs just 400 grams is expected to be available starting early next year.
Watch the preview video for all-new BlackBerry PlayBook tablet.