Say goodbye to the car stereo receiver that take CD! The leading German manufacturer for car radios and car audio equipment, Blaupunkt has introduced its latest Melbourne SD27 Car Stereo that only play the musics/songs via an SD/MMC memory card slot. No CD slot at all! Besides, this device can support MP3, WMA files and displays those ID3 tags on its LED display, aiming to enhance your car audio experience.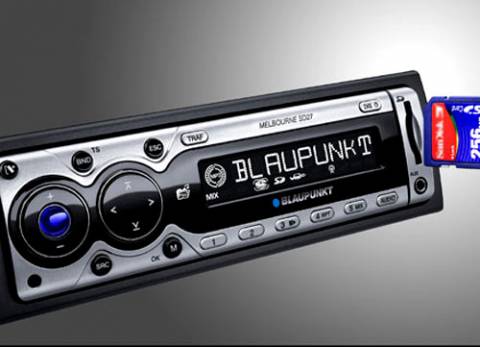 "For more and more people, compact discs have become obsolete," comments Blaupunkt USA General Manager Lutz Marschall. "They buy their music from the internet, download it to their hard-drive music server, and take it with them on their iPod. The last holdout for many of these consumers is their car radio, which still requires them to burn CD-R's with either audio or MP3 files. The Melbourne is a far better solution for these consumers – no CD required: they just plug in a memory card or portable MP3 player and they're on their way."
With the use of an optional adapter, the latest car stereo from Blaupunkt also able to integrate with cell phones, iPod, portable MP3 storage devices or GPS devices, and anything suit an analog 3.5mm audio plug. The new Blaupunkt Melbourne SD27 Car Stereo Receiver is now available for about $160.