Previous we mentioned about USB FireWall that protects your PC from being infected by any autorun programs once USB drive is inserted into USB port. Now there is another similar freeware, named as Autorun Eater that is able to monitor and detect malicious autorun file to prevent malware infections through USB or portable hard drives.

Autorun Eater is a utility that can automatically scan and remove any suspicious "autorun.inf" files found in the root directory of drive C-Z (excluding CD/DVD drive). Drive A and B are reserved for floppy disk but if you have these drives, you can still scan them by using the manual mode. Autorun Eater is an executable file and once it is executed, it will stay in the system tray while running at background. Once it detects a suspicious autorun file, it will display a warning window as shown below and provide you options to either ignore or remove it. Before deleting the file, Autorun Eater will backup the file automatically and all actions taken will be logged for future reference.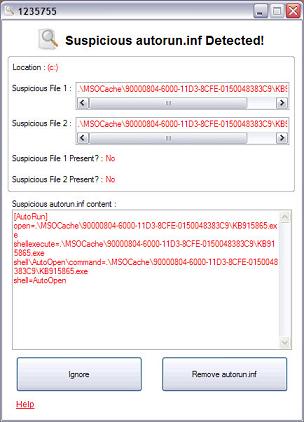 Autorun Eater v2.4 is compatible to run on Windows 7/Vista/XP. This version is still in beta and you are encouraged to provide feedback to the team if any. Good thing is, it doesn't require any installation, just run the executable file and it will run at background to help you monitor all the autorun.inf files available in USB or portable hard drives in order to protect your computer from virus or malware infection.