Dulin's Books has announced its e-book reader which named as Boox 60. The e-book reader has been integrated with Wi-Fi connection and Webkit-based browser for users to view news, blogs and wiki sites as well as download content.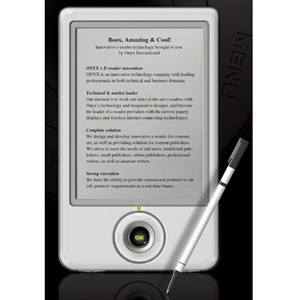 The e-book reader is featured with 6-inch Vizplex display with touch capability. It is powered by a 533MHz CPU and has built-in 512MB memory. The device has been designed to support various types of files including EPUB, PDF, MOBI, HTML, TXT, PDB and CHM. The Boox 60 is also preloaded with Adobe Digital Editions that able to support DRM, EPUB and PDF format. It comes with a 1600mAh battery that provides up to 8000 pages turns, supports microSDHC memory card and has built-in text to speech capability. Besides, it supports various images formats such as JPG, BMP, PNG, GIF and TIFF, and MP3 player.
The Boox 60 is expected to start shipment by mid of January 2010 and is now available for order with the price tag of $349.