As computer usage becomes more and more popular with affordable pricing, it is quite common to have a few computers in single household and if you are one of them that always do data sharing and transfer between two computers, you may be interested to find out more on this new data sharing dongle from Brando. Generally named as USB 2.0 Data Copy and Internet Connection Sharing Dongle, it allows both the data transfer as well as internet connectivity with just a simple dongle setup.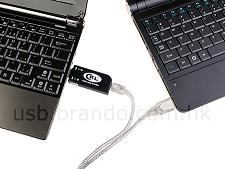 The dongle is featured with USB interface that can connect to USB host ports on both PC for seamless connectivity. Theoretically, it can have a rapid data transfer of up to 480Mbps maximum throughput so that both of your systems can share the file transfers as well as contents download directly from web service providers. Good thing is, it doesn't require any driver installation and best of all is it allows easy setup with plug and play capability.
The dongle is compatible with 32-bit Windows XP and even Vista OS (Operating System). At an affordable price of only USD29, it is worth to have one to connect multiple computing systems in your digital home.