Nowadays technology convergence is a trend and some manufacturers tend to put brilliant idea into end products in order to able to differentiate themselves from other competitors. Similarly, Brando has just announced a new combo docking station that integrates multiple functions into one device which is suitable to be used in both office and home environment.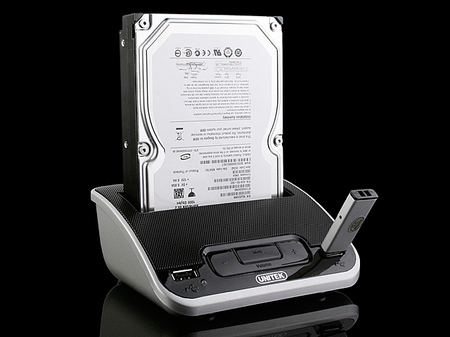 First, the docking station is compatible to standard 2.5-inch and 3.5-inch SATA hard disk drive as a hot pluggable media to transfer data between PC system and external hard disk drive. On top of this, it is equipped with high quality stereo speaker that enables users to play impressive high definition audio directly from the media source stored in both internal and external system. That is not all, the docking station can also be used as a conventional USB hub that allows users to plug in two USB compliant devices through its high speed USB 2.0 host ports embedded into the docking station.
The device is definitely a good fit in any space constraint SOHO concept and at a price of US59, it is also a value buy in view of various functionality that being offered to end users.