Brando has released another cooler gadget which able to allow user to enjoy additional USB port and HDD slot. This cooler gadget is a notebook cooling pad which features with 2 fans and together with 3 USB 2.0 ports. Additionally, it also build in additional 2.5" SATA HDD slot. With the features, the user can extend their USB slot and HDD slot from this cooling pad conveniently. The HDD slot able to support up to 250GB SATA HDD.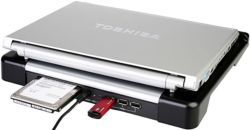 The details features and specification of Brando Latest Notebook Cooling Pad:
Slim and smart design of the cooling pad system.
High-performance and extra quiet 2 Fans built-in which absolutely helps to dissipate the heat-air away from underneath the notebook computer for cooling down the overall temperature of your system.
Extremely heavy-duty construction of the cooling pad to afford any weight or pressure put-on.
Power source supported easily by the plug-and-play USB connection as a self-power mode.
Convenient, reliable and comfortable of carry.
No need of any installation.
Compatible with any notebook computers.
Caution: 2.5″ HDD to be used in paralleled inserted!!!.
Hard Drive capacity support up to 250G.
Fan Size: 70 x 70 x 70mm (approx.).
Dimension: 300 x 252 x 32mm (approx.).
Weight: 504g.
Priced at $33.