For beginners who want to progress to more advanced photography and can't afford more expensive DSLR (Digital Single Lens Reflex) cameras, we have suggested Nikon D40 to be one of your options in an earlier post. But if you don't fancy Nikon, you can also consider some other budget DSLR cameras as follows: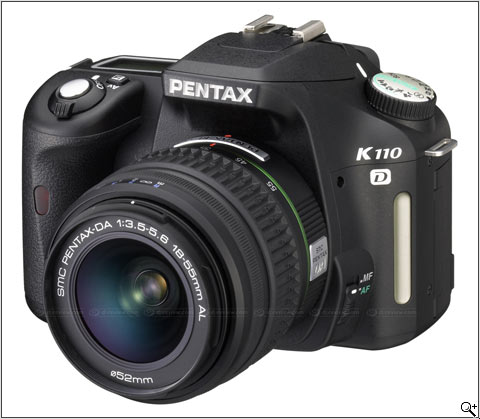 Pentax K110D
Pentax K110D
About the same price as Nikon D40, Pentax K110D also features the same 6.1-megapixel CCD sensor as the D40. The Pentax K110D is an excellent lightweight DSLR which features many beginner-oriented features. Compared to Nikon D40's 2.5in external LCD viewfinder, K110D has a slightly larger viewfinder. It has 11 AF-points and runs on easy-to-replace AA batteries. Pentax is known for its excellent image quality. K110D also offers similarly high standards. It renders images with excellent resolution and colours. The bundled SMC DA 18-55mm f/3.5 – 5.6 AL lens are very compact and very sharp. Pentax K110D costs you approximately US$599 with 18-55mm lens. If you are willing to pay more, there's also the Pentax K100D, which is exactly the same as K110D but equipped with CCD-shift image stabilization.
Summary of the features
– High-speed shutter unit, with a top speed of 1/4000 second
– High-speed continuous shooting, up to five images (at "Best" image quality in JPEG format) at the speed of approx. 2.8 images per second
– Eight distinctive Scene modes to accommodate specific subjects/applications
– 19 custom functions to personalize camera operations
– SD memory card compatibility
– Choice of two preview functions (digital/optical)
– Storage of recorded images in day-by-day files on an SD memory card
– Choice of 16-segment multi-pattern metering, center-weighted metering and spot metering to accommodate various photographic applications
– Noise reduction mechanism to reduce digital noise during extended exposures
– USB 2.0 (HI-SPEED) compatibility for speedy data transfer to PC
– Choice of image format between JPEG (Best, Better or Good) and RAW
– Five digital filters (Black-and-white, Sepia, Slim, Soft and Brightness) for easy editing of recorded images
– PictBridge compatibility
– Standard software package, featuring PENTAX PHOTO Laboratory 3 RAW data processing software and PENTAX PHOTO Browser 3 image browser software
Read more from Pentex and also the review from Digital Photography Review.
Click here to download specifications.
Click here to download instruction manual
Click here to download Photo Browser manual
Olympus E-500
Olympus E-500 is more expensive compared to D40 and K110D. Retail price for Olympus E-500 is approximately US$799. But it provides you with additional lens. E-500 is one of the easiest-to-use DSLRs in its class, with a very logical control layout and good ergonomics. E-500 is an excellent camera for beginners. It is user friendly and the sheer number of adjustable functions gives users a wealth of customization option. The twin-lens kit gives first-time users loads of flexibility too, with an excellent Zuiko 14-45mm f/3.5-5.6 wide zoom lens and a Zuiko 40-150mm f/4.5-5.6 telephoto zoom lens. E-500 also has a couple of shortcomings. Users complain that the viewfinder is too small – the smallest ever for a DSLR. Besides, the image noise at ISO 800 and ISO 1600 is a little high by today's standards.
Read more from Olympus and also the review from Digital Photography Review.
Canon EOS350D
Canon ESO350D has been offered in the market for quite some time. EOS350D produces excellent image quality with low noise at high ISO, excellent colours and good resolution from its 8–megapixel CMOS sensor. Canon EOS350D is a very good choice for sports or action photography with its auto focus performance. The only problem with EOS350D is its small handgrip. It is uncomfortable for users to handle especially those with big hands.
Read more from Canon and also the review from Digital Photography Review.