Creative has released new HD Entertainment Dock for iPod, MovieWorks HD. Cambridge SoundWorks' new MovieWorks HD puts iPod at the heart of home entertainment system. It is designed to ensure best home theater and home audio experience from iPod. With that, movies stored in iPod can be be displayed in High Definition at home on TV. MovieWorks HD also makes MP3s sound better than CDs, and transforms the stereo audio to DTS® surround sound.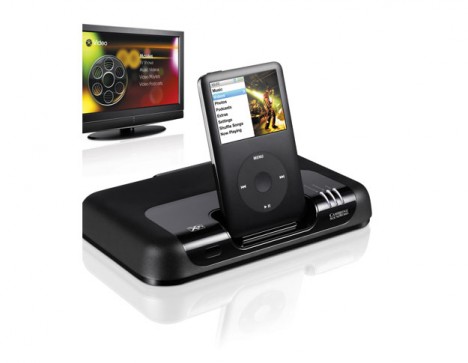 MovieWorks HD is the only iPod dock that offers Creative Technology's award-winning X-Fi Xtreme Fidelity audio technology with built-in X-Fi Crystallizer and X-Fi CMSS-3D technology. 
X-FI Crystallizer technology restores detail and vibrancy to compressed music from iPod during playback. It is done by analyzing and identifying which parts of the audio stream have been truncated or damaged during compression. X-Fi technology intelligently restores the highs and lows from instruments and vocals that are lost during compression of MP3s, making music sound richer and fuller.
Summary of MovieWorks HD Features
Upscale movies in High Definition on an HDTV
Upscale the videos to 1080i HD resolution, creating a vivid high definition video experience from iPod.
Enjoy DTS surround sound through home theater receiver
Send DTS surround sound to home theater system through an HDMI or single optical cable. All you need is a receiver with DTS decoding to start enjoying surround sound from iPod.
Control iPod on the TV
Navigate through songs, videos and pictures, control music playback and adjust settings on the TV with the wireless remote control.
Expand stereo music, movies and TV shows into surround sound
Turn plain stereo music and videos into a full surround sound experience. Voices are centered in front, while ambient sounds are moved all around you.
Restore the detail and vibrancy to compressed music on iPod
Movieworks comes with a built-in X-Fi Xtreme Fidelity audio technology that restores detail and vibrancy to compressed music and makes music sounds richer and fuller.
Built-in wireless music streaming technology
By addding a Creative Wireless Receiver (optional) and powered speakers, you can get music anywhere within the house, without interfering existing home network.
MovieWorks HD is sold at USD$249.99 online. Package Includes:
Connectivity
HDMI port
Component Video Out jacks
Composite Video Out jack
RCA Audio Line Out jacks / Optical Out jack
Audio Line In – 3.5 mm (1/8″) Stereo jack
Headphone Out – 3.5 mm (1/8″) Stereo jack
X-Fi Technology
X-Fi Crystallizer
X-Fi CMSS-3D Surround
X-Fi CMSS-3D Virtual
X-Fi CMSS-3D Headphone
Power Adapter
Supply Voltage: 5V (typical)
Current: 4 A
Power: 20 W (maximum)
Radio frequency (RF): Operating RF range: 2400 – 2483.5 MHz
Number of RF channels: 3
RF transmitter power output: 16 dBm (typical)
Dimensions
7.5″ x2.3″ x 4.6″