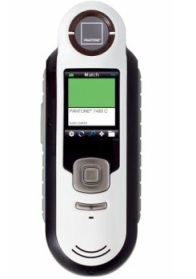 The world is a wonderful place, sings Louis Armstrong, and colors play an important role in making the world so beautiful and splendored. There are so many variations of color that one will be hard put to reproduce a color one sees in an object unless one captures it with a scanner and run it through a database as extensive as Pantone. Capsure is a handheld device that will help one to capture a color and analyze it for its exact variety. Users can point the scanner to any surface including patterned or textured surfaces and colorful fabric. Capsure will scan the object and then instantly match it to a Pantone color.

The Pantone color library numbers 8000 and includes:
The PANTONE FASHION + HOME Color System Library (paper and cotton) for fashion and home
The PANTONE PAINT + INTERIORS Library (paper and cotton) for architecture and interiors
The PANTONE PLUS SERIES Formula Guide (coated and uncoated), the PANTONE PLUS SERIES
Capsure works by capturing the image in a three-dimensional technology which can eliminate shadows and match the color accurately to the database. It can also break down an image into four dominant colors so that users can pick the particular colors they like. Designed for interior designers, fashion designers, paint retailers or simply the DIY buff, Capsure allows both the professional and home user to integrate the color chosen into their designs or projects and produce beautiful masterpieces of their own.