Previously we have mentioned FireShot that works as Firefox and IE extension to let you capture and edit screenshots from web pages easily. Now, there is another free and powerful tool, named as PicPick which works as a standalone application and is able to help you capture and edit screen shots more efficiently.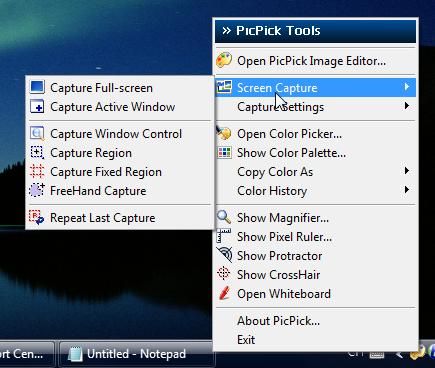 Once you have installed and launched PicPick, it will run at background quietly and stay at system tray. To start using this feature, just right click on the icon appeared on the system tray and a list of menu will be poped up. To capture a screen shot, select Screen Capture follow by choosing either one of capturing modes such as Capture Full-screen, Capture Active Window, Capture Window Control, Capture Region or Feehand Capture. The image captured will be immediately displayed on PicPick Image Editor. Although PicPick Image Editor is very similar to Microsoft pain, but it has been enhanced with more features. It can provides an effect like selection opacity, blur, sharpen, brightness, contrast, hue, saturation, flip, rotate and etc. On top of this, Color Picker, Color Palette, Pixel Ruler, Screen Protractor, Crosshair and screen whiteboard are also available in this tool.
In summary, PicPick is an all-in-one tool for software developers, graphic designers and home users. There are two types of download packages being released. One is installation package which requires you to do the installation, another one is executable file which you can use it by running the executable file directly. To experience it yourself, go and download it at here free of charge.