If you ever need to work at night or go on an outing with friends, you might find the Infrared Flashlight Video Recorder from Hammacher Schlemmer useful. The only one of its kind in the world, the Infrared Flashlight Video Recorder illuminates the subjects or surroundings while capturing them on video. There are also built-in microphones to record sounds accurately.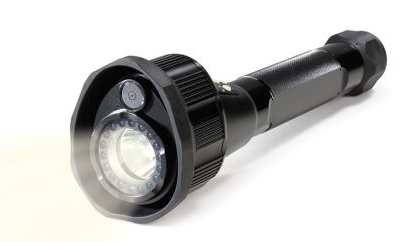 Featuring a 3-watt white LED light surrounded by seventeen infrared LEDs, the device is very powerful and can light up the darkest places for up to 13′ night recording. The video and snapshots are captured at 640 x 480 resolution at 30 fps. The flashlight supports up to a 2GB mini-SD card and has a 128MB built-in memory. The memory can store 500 snapshots and 15 seconds of video.
The batteries last for about three hours of illumination and one hour of recording. Users can find out information about the battery life, recording format, time, date, and storage capacity via an LCD screen. The device also comes with a USB port for users to plug the flashlight recorder to their computer to download videos.
For $399.95, the gadget could prove very useful for a night shutterbug who takes video in places which are not well illuminated.