You want to enjoy the karaoke fun while you are having a picnic, but you can't bring your karaoke set to your picnic area. Disappointed? Now the engineers at Griffin Technology have created a low-cost karaoke system you can carry anywhere.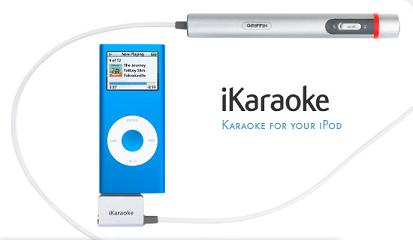 Griffin now brings you the iKaraoke. The iKaraoke is a microphone that plugs into any iPod with a dock connector and processes any music that you own. Its software will fade-out or mute the vocals from your favorite songs and replaces them with your very own self-styling over the included microphone. The playback can travel by cable to a headset or amplifier, or it can be broadcast wirelessly to an FM receiver up to 20ft away.
However, the muting is not perfect. You will still hear the lead singer at least faintly in the background, and unpredictably it works better with some songs than others.
Important Features of iKaraoke
• Plug and play – Connects to any iPod with a Dock connector.
• Your biggest hits on your system – Plug into your home or auto audio using iKaraoke's line out, or use iKaraoke's FM transmitter to broadcast your tunes through your FM radio.
• You're in control – Adjusts backing music volume. Pause, scan forward and back, skip tracks. Boost your voice with adjustable reverb.
• Attention please – Mutes music to use iKaraoke as a PA.
• No batteries – Uses your iPod's power.