The international online retailer of mobile communication & electronic products, Cell-Savers has announced a new defence for screen privacy of digital devices, called as Magi-Privacy Screen, the one-size-fits-all film that makes your screen appear black to onlookers viewing your screen at more than 30 degree angle, aiming to prevent identity theft and invasion of privacy.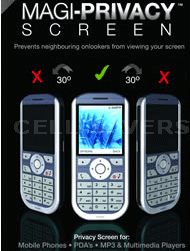 "The Magi-Privacy Screen improves privacy and personal security on portable devices that we take for granted such as cell phones, multimedia players, PDA's and smart phones. The Magi-Privacy Screen is nothing short of an essential security gadget," said Barmania.
According to the online retailer, "Cell-Savers future plans include the addition of the Magi-Privacy Screen filter for use on computers and notebook screens and the Magi-Mirror Screen which converts the screen of mobile devices in to a portable compact mirror. Both the Magi-Mirror Screen and Magi-Privacy Screen function as tough screen protectors, protecting the handheld device screen from damage caused by scratches and preventing glare."
Features Of Magi-Privacy Screen For Mobile Devices:
Affordable Privacy Screen & Screen Protector in one
Stops 'shoulder surfing'
Helps stop theft of passwords and private information
Protects against scratches & dust
Anti-reflective
Compatible with touch screen devices
Universal size: Fits screens up to 4.5 inches
Protects against expensive screen damage
The cool Magi-Privacy Screen for mobile devices that compatible with almost all mobile devices is available now for £7.99 or about USD $15.20.