CF (Compact Flash) card continues to play an important role as a medium for external storage especially in professional digital SLR camera as well as embedded markets. In order to cater for higher resolution's images and huge file size, CFA (Compact Flash Association) has recently announced a new specification that would allow a faster transfer rate as well as higher storage capacity. Known as CF 5.0, it will be upgraded to 48-bit addressing (currently using 28-bit addressing) that can theoretically expand the logical block address to up to 144PB, or 144 million of gigabytes suitable for demanding usages.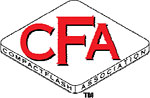 The new CF 5.0 specification is claimed to be compliant to ATA-6 instead of ATA-4 that enables faster data transfer and with its 48-bit command, it can transfer up to 32MB of data block versus 128kB that can be achieved with single 28-bit command. Besides, it supports Trim command, a feature in Windows 7 that is capable to inform which specific data blocks are no longer in use to allow consistent high speed performance over time, making it even suitable for embedded or PC applications. On top of this, the new specification also includes a new set of commands that can guarantee video performance targeted for high end professional video capturing devices such as camcorder and etc. To differentiate this from previous CF cards, a new logo will be created so that it can be recognized by end consumers to easily penetrate into new high end market.
However, no actual date on when will the actual CF 5.0 cards be available yet, but no doubt this is a great milestone to continue pushing Compact Flash card usage in Consumer Electronics and other segments where higher speed and capacity are in demand.