CFA (Compact Flash Association) has just unveiled a new CF (Compact Flash) package through SATA (Serial ATA) interface for embedded world. As compared to earlier IDE to SD/MMC Adapter, this seems to be another innovative solution that utilizes popular SATA interface to extend CF usage beyond consumer market. CF card is still dominant in high end DSLR professional digital cameras and hopefully with the new introduction of Compact Flash expansion through SATA (Serial ATA) interface, the usage models can be further extended to embedded system such as industrial PCs, single board computers and more.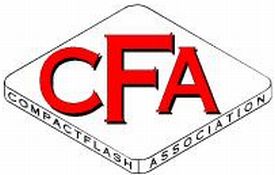 Although there is already CF expansion through PATA (Parallel ATA) or IDE interface but in terms of performance, SATA offers higher throughput of up to 3Gbps as compared to older PATA technology which is still limited to 133MBps. Furthermore, current market is trending towards SATA and this is the right move to capture more market segments down the road.
If you are aware, Compact Flash card usage is no longer limited to data storage, as there are quite a number of modules already available in this form factor that targeted for Ethernet, Bluetooth, GPS (Global Positioning System) and other types of applications. The group is ready to showcase this new CF with SATA module in upcoming CES held in Las Vegas.