Compact Flash is one of famous storage format available for consumer electronics market. It has advantages of high stability and capacity per cost as compared to other storage formats that makes it the most successful flash storage especially in high end pro photographic segment. When the capacity has been increased, faster access speed is crucial to shorten the total transfer time, in which current version of Compact Flash no longer can cope with. Good news here is, CompactFlash Association has already started to work on the improved version, CFast that able to scale up the read/write speed to the next level.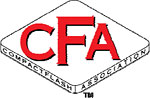 As compared to existing Compact Flash standard that only capable of handling maximum of 45 MBps transfer speed, the new CFast specification is able to achieve 375 MBps theoretically with some enhancements. Thanks to the use of SATA (Serial ATA) interface that eliminates the bottleneck during data transfer between devices. Besides photographic, some of you may not aware that its usage has also been extended to many embedded computer as a good media for fast and stable system boot up.
Although there is still not much specification being disclosed yet, but there are expectation that the actual prototype will be ready within 2 years time. One drawback, the new specification is said not to be backward compatible but let's wait for more release.