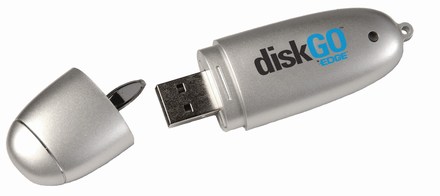 Wanna purchase a large-capacity flash drive with more economic price? The US-based leading supplier of flash cards and flash drives, EDGE Tech Corp has recently announced the release of their new DiskGO USB Flash Drive with 32GB lagre capacity for less than $400.

The latest DiskGO 32GB flash frive features a transfer rate of up to 480Mb/s and it has the ability to store more than 21,000 photographs (around 1.5MB of size). Meanwhile, the company also includes a free preview of CryptArchiver Lite encryption software onto 32GB DiskGo, which able to cipher up to 25MB of data at 128-bit AES encryption.
"We're proud to be at the forefront of technology with this drive's enormous capacity. We will continue producing state-of-the-art computer products for people on the go," said Jeff Thompson, president and CEO of EDGE Tech Corp.
The price tag of $399.95 is definitely a main advantage of the sleek Edge Disk Go 32GB USB drive if compared any competitor with flash drives of this capacity. As expected, the company also offers a lifetime warranty on this portable storage device. It's a real bargain flash drive!