During the recent CES 2008 event, Clarion showcased a new high end prototype MiND (Mobile Internet Navigation Device) for In Vehicle market segment. The device is capable of connecting to internet using various wireless technologies such as WiFi, WiMAX or 3G cellular network while on the move. Besides high speed internet connectivity, users will able to download video, access GPS (Global Positioning System) navigation, listen to music and enjoy even more entertainment in the vehicles.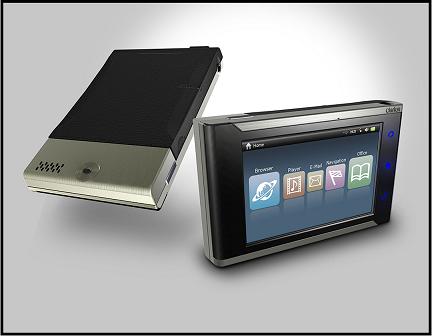 The product is powered by Silverthorne processor and Poulsbo chipset that offers features rich connectivity and high processing power more than sufficient for networking and multi-tasking. It will change the way of how consumers are connected to internet world other than in office or home, by providing seamless connectivity everywhere with either WiMAX or 3G network while driving around. That is not all, it is backup by external internet connection option which can be paired with mobile phone via Bluetooth technology for optional services offered by cellular service providers.
Some of the features include 256MB RAM, 4GB Flash Memory, CMOS camera, USB port, Micro SD card interface and a 5.2-inch WVGA touch screen LCD display with 800 X 480 resolution. Running on Linux version 2.6.22 OS, it features fast boot option that offer power up in seconds as compared to Windows OS that takes couple of minutes.
Obviously, with all these features in place, this product is getting much traction as one of the best next generation Mobile internet device for In vehicle Infotainment usage. The actual product will be available by end of 2008 aiming at retail selling price of below $700.